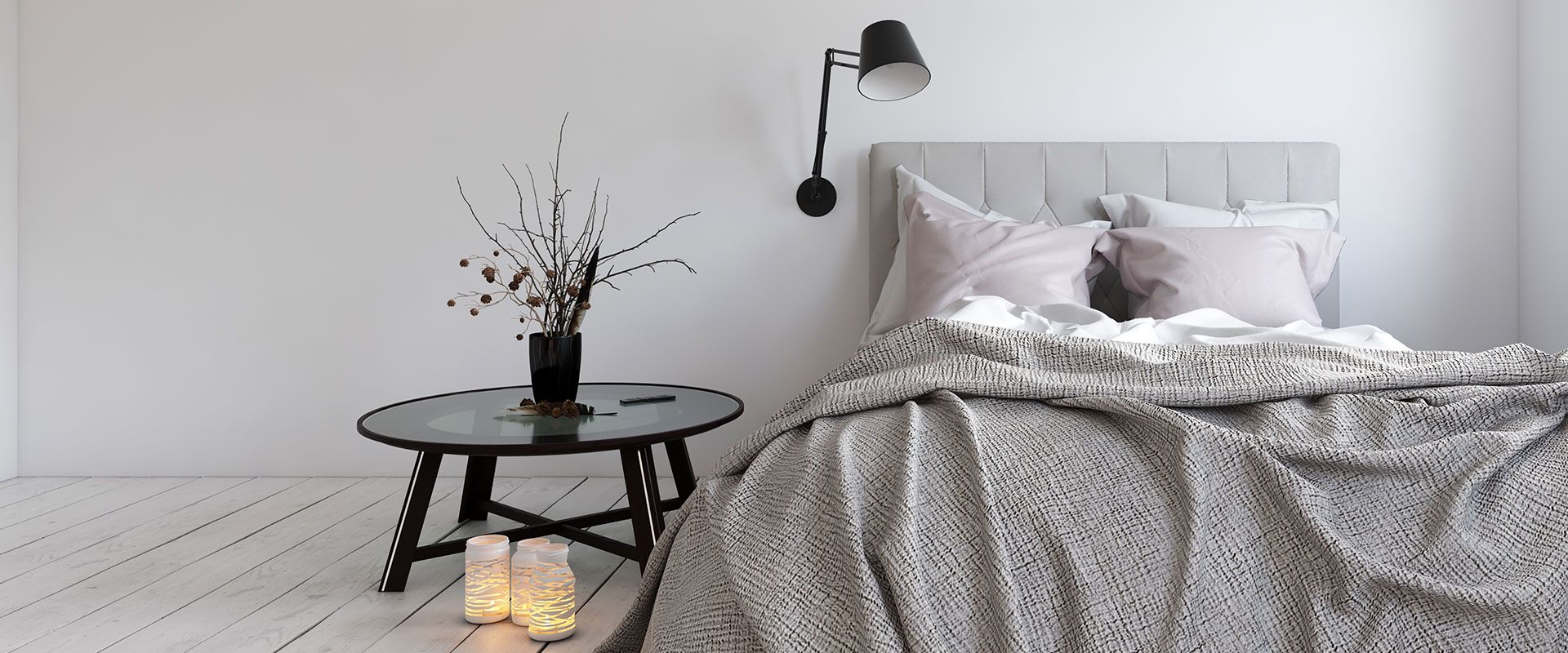 With Autumn fast approaching, cuddle season is just around the corner. If you are considering investing in a new set of sheets to get cosy in, here are some things you need to know to avoid taking the wrong ones home.
Material
The vast number of option available can be pretty overwhelming, they all have their own merits and of course price point difference. Here's just a bit of information about what is on the market. We'll leave it to you to make the choice about which one(s) is right for you.
Silk

Silk isn't just sort after because of its luxurious lustre. Silk is also hypoallergenic, antimicrobial, and breathable. Making it perfect for those with allergies or skin conditions.
However, given the slippery nature of silk, you will need to make sure you are choosing the best fit. Silk can also be a little temperamental in its temperature regulation, often being very cool to the first touch on a cold winters night. While sometimes just a little too slippery and warm for an Adelaide summer heat wave.
Nevertheless, if skill strikes your fancy, then look for a momme rating of 19-22, this indicates the quality. Always, treat your silk sheets with care, wash by hand the first few times and only on a cool delicate cycle thereafter.
Bamboo
Bamboo is fast becoming the world's favourite eco-friendly and sustainable material. Bamboo the material is woven from threads derived from bamboo grass. Bamboo plants are the fastest growing plant in the world, they require very little water and no pesticides. Making them incredibly environmentally friendly and highly sustainable, despite increases in demand.
Sheets made from bamboo are soft, silky and durable. They also boast hypo-allergenic qualities. Hence why their popularity is on the rise.
Flannelette
Flannelette isn't just for plaid button up shirts. In fact, as far as warm winter sheets go it is the absolute dream. As a knitted (not woven) cotton fabric its brushed threads turn your bed into a cosy cloud. Perfect for chilly Adelaide winters.
The thickness of the knit also makes flannelette sheets last a lifetime. Because they are a winter sheet, many flannelette sheet owners boast that their sheets have lasted many years and more than definitely paid themselves off.
Jersey
Jersey cotton, often associated with clothing, is a great inexpensive alternative to flannelette. Its soft stretchy nature makes it perfect for staying warm on cool Adelaide winter nights.
Its price point makes it a great option for kids beds in the winter months.
Cotton
Pure cotton sheets are the perfect everyday sheet. With an array of cotton varietals from all over the world, there is an option for all budgets. However, if you are considering your next sheet purchase as an investment, then paying attention to the finer details of the cotton fibre is what will distinguish your investments lifespan.
When getting into cotton jargon, all you really need to know is that 'long-staple' are the best and 'short-staple' are the worst. Essentially, the longer the individual fibre or 'staple', the more durable the sheet. The length of the 'staple' affects the way the thread holds together. Shorter 'staples' will pill and lint faster.
The most famous cotton's, Egyptian and Pima, have the longest 'staple'. Making the sheets made from them luxurious and long-lasting. Of course, that attracts a luxurious price tag, truly making them an investment.
Whatever thread you decided on, cotton is a great choice for the Adelaide summer nights. Because cotton is highly absorbent the sheets will wick away the hot evening sweat so you don't feel clammy.


Organic Cotton
The only difference between cotton and organic cotton is simply that organic cotton crops have not been treated with pesticides or any other chemicals.
Organic products are becoming more and more popular because of their apparent environmental consciousness. The organic rating hasn't been proven to affect the 'staple', so the choice of organic over non-organic is purely a choice of personal ethics.
Cotton Blend
As the name suggests, cotton blend is simply a combination of cotton and synthetic. The combination makes the sheets an inexpensive option, whilst also being very durable. Cotton blend sheets are a great affordable option for kids beds but make sure the synthetic portion is kept low (around 10%) otherwise the sleeper will get sweaty on hot Adelaide nights.
Thread Count

When it comes to choosing sheets so much chat is thrown around in reference to 'thread count'. Thread Count refers to the number of stitches in a square inch. For years bedding retailers have touted the correlation between a high thread count and the durability of the sheets. While this is true to a degree. What really matters is the quality of the original fibres. In fact, too tight a weave can make the sheets stiff and a big rough.
Whatever you sheet material preference, consider them an investment. Just like your bed, you spend nearly a third of your life asleep. Do your body a favour and rest in comfort, if not style too. Before you head out sheet shopping, why not pop into one of the Galligans two Adelaide showrooms to see our range of luxury mattresses and bed frames.