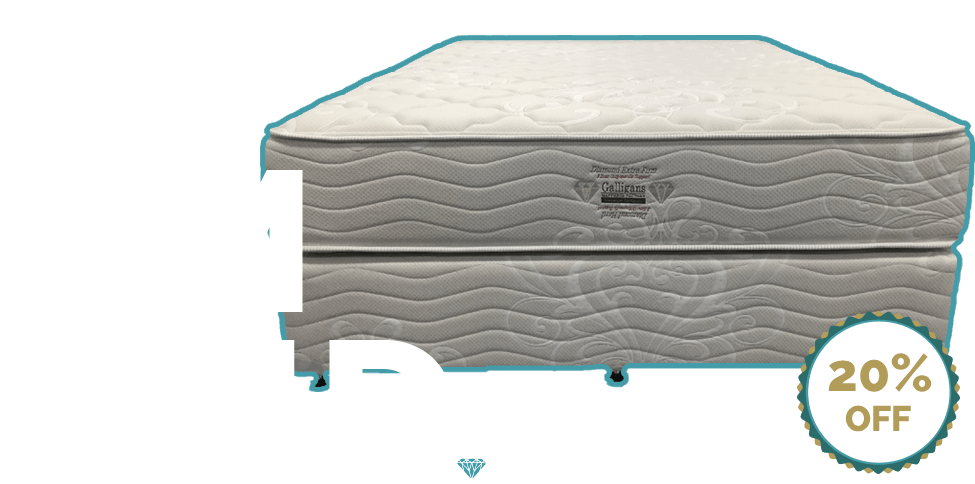 The Diamond Mattress
The Diamond mattress is constructed with a high quality 3-zone orthopaedic spring system providing maximum back support.
It is a high profile mattress and features Galligans Foam Box Construction with 50mm premium quality foam layers on the extra firm side of the spring unit and 75mm premium quality foam layers on the hard side. Covered in plush high quality 24mm micro-quilted stretch knit fabric, this limited edition* mattress features memory foam and provides a choice of two alternate firm yet luxurious comfort levels so that you can select that which best suits your needs.
The Diamond Ensemble Base
The Diamond ensemble base is constructed from Australian timbers and features Galligans Posture Solid Slat Base with a heavy duty poly felt top protection pad giving a firm, level foundation to the entire area of the mattress.
It is designed to minimise 'partner disturbance' whilst also giving maximum support, comfort & mattress durability.
The base walls are covered in high quality micro-quilted stretch knit fabric and the top is covered in a non-slip Dura-cord fabric.
Diamond Extra Firm / Hard Mattress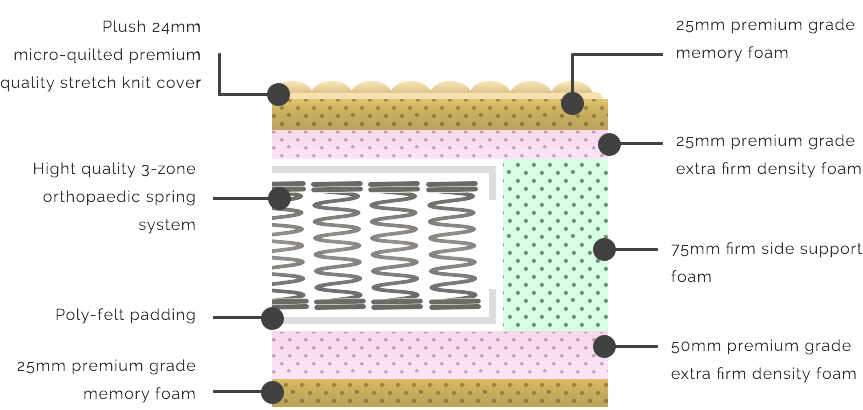 Single
King Single
Double
Queen
King
Diamond
3'x6'2″
92x188cm
3'6″x6'8″
107x203cm
4'6″x6'2″
138x188cm
5'x6'8″
183x203cm
6'x6'8"
183x203cm
Mattress
$599
$479
$699
$559
$899
$719
$999
$799
$1199
$959
Standard base (leg & castors)
$405
$324
$490
$392
$625
$500
$675
$540
$890
$712
Complete Ensemble
$1004
$803
$1189
$951
$1524
$1219
$1674
$1339
$2089
$1671
*Please note – 30 day "Sleep like a baby" conditions do not apply to limited edition models.
Prices & specifications effective 1/09/16 & subject to change without notice.
Proudly a four generation South Australian Family Business.